The French Institute of Cambodia Invites You to Experience the 'Wind of Asia'
Posted Jun 17, 2022 15:19 by Darshana Gauchan

1598
Aa | aA
PHNOM PENH: The French Institute of Cambodia (IFC) kicked off its third cultural season of its annual program earlier this month on 2 June, 2022. This season, entitled 'Wind of Asia,' will focus on fashion, perfume, design, ceramics as well as gastronomy.

The inaugural event for the Wind of Asia was held on 2 June at the IFC, opening the first of two main exhibitions this cultural season will present, on 'Fashion and Perfumes'. Featuring a perfume testing gallery of a dozen famous perfume and fashion houses, the centerpiece of the exhibition was the presentation of the new perfume, "In the arboretum," commissioned by the IFC, in partnership with 'Nez, le mouvement culturel olfactive,' for the occasion of the IFC's 30th anniversary. The perfume was the result of a collaboration between visual artist, Sophea Pich, and French perfumer, Violaine Collas, during a residency at Cirva, the International Center for Research on Glass and Plastic Arts, in France.
"It's a very big and important event for the French Institute," said Valentin Rodriguez, the Director, of the IFC. "It's the season, Wind of Asia, 'Vent d'Asie.' The exhibition, fashion and perfume, 'mode et parfum,' it's totally French with complicity between Cambodian and French artists. For example, in this season, I invited a big Cambodian artist, Mr. Sophea Pich, for one residence of arts in Marseille, France. The residence was at Cirva, Centre International de Verre, the international center of glass, for [creating] sculptures and objects from glass, and in the same moment, [to work with] one French "nose" (perfumer), Violaine Collas. And Violaine Collas and Sophea Pich worked together to create the first Franco-Khmer perfume of the landscape of Cambodia."
The IFC describes this exhibition on fashion and perfumes as focusing on the links that unite these two disciplines and the way they feed each other and grow together. Mathieu Chévara, one of the co-founders of the olfactory periodical Nez, who partnered with the IFC to organize this event, explained that fashion and perfume have been long tied together in history.
"It started in the beginning of the 20th century and it was a kind of craft in the beginning, and now it is becoming, step by step, a real industry, and the relationship between perfume and fashion is now really difficult to disconnect, and sometimes a signature is mainly supported by perfume, more than clothes, for creators," said Chévara. "So, we try to explore and explain through different selections of really emblematic perfumes in history, this relationship between two kinds of creation fields, perfume and fashion."
Regarding the specific creation of the perfume, "In the arboretum," made for the occasion of the French Institute's 30th anniversary, Chévara spoke a bit about how Nez helped to bring together Sophea Pich and Violane Collas to create a fragrance that reflects Cambodia, as well as the artist's memories and personal olfactory experience.
"In every issue of our magazine, Nez, we try to invite someone in another field of creation to meet a perfumer and to try to work together to explore the olfactory culture, and to create a perfume, an original and exclusive perfume," explained Chévara. "So for this last issue, we invited Sophea Pich, one of the most famous artists in Cambodia, to explore with Violaine Collas from 'Mane' company, which is a fragrance house based not so far from Grasse in the Southeast of France. They tried to follow a fragile path of memories, [Pich's] memories about a walk in the forest, to try and find the different elements which defined the smell of the forest, when he walked through it."
Speaking with the artist and creator himself, Sophea Pich – who traditionally works with natural materials such as bamboo, rattan, burlap, wood and stone – said he was approached by the IFC and Nez to see if he was interested in creating a scent that speaks about his experience of working with natural materials and living in Phnom Penh. Pich is notably the first artist from Southeast Asia to be invited in residence at Cirva.
He said the process of creating the perfume took multiple months, and first began with an online conference call with perfumer, Violane Collass, and a team of other French perfume experts.
"I asked them a lot of questions, obviously, about how do you get the scent, how do you get the root of it, where do they make it, what does it look like," said Pich. "During the process they sent me about 25 different scents, and then I was to narrow them down to a smaller percentage, and then they started mixing [certain scents together], then they sent me some more, and then I went and met them two times in Paris, until we got to, basically, two or three scents. Then we met one last time at the studio where I was [doing] a residency in Marseille, at Cirva. We basically worked at it for, I don't know, maybe four or five months actually, to get to the final product."
Regarding what kind of positive impact he hopes the creation of this perfume will have on Cambodian culture, Pich said he hopes to see more Cambodian perfumes embodying the olfactory sensibility of the country get made and represented internationally.
"As far as I know, there is no Cambodian perfume per se, we use other people's perfumes so I think it's important that we start to think in terms of the scent that comes from our country, and then trying to make that more universal. It would be great to go to an haute couture shop and not just find other people's perfume but also your country's perfume as well. And, I'm just a small part of it, but hopefully in the future there will be more," said Pich.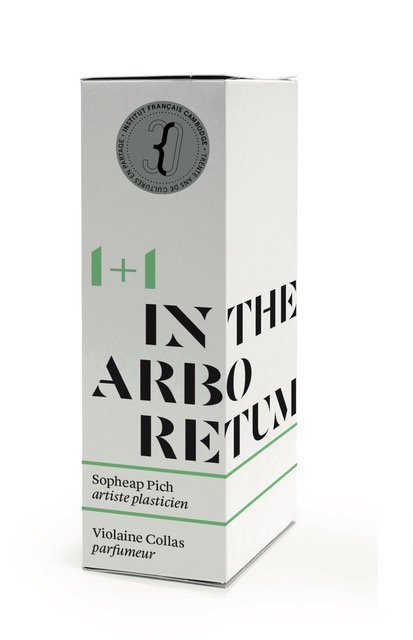 The event was a bustling affair attended by many members of the public, and also featured some high-profile guests, such as the Minister of Culture, Phoeurng Sackona, who delivered a short speech to open the evening festivities, and also happily toured the perfume exhibition. When asked which perfumes she liked best, she said she was particularly happy to try out new scents, especially the new perfume commissioned by the IFC, and made through a Franco-Khmer collaboration.
"I liked trying the new perfume made by our fellow Cambodian because it has a familiar smell," said the Minister of Culture. "It's the smell of walking through a rice field–the smell of wheat flowers. Wheat flowers do not have sweet fragrance like jasmine, but it has its own smell when the wheat flowers blossom. When you walk through a field and feel a gust of wind, the rice field has its own fragrance. That's the feeling we have when we smell the perfume."
"The love of perfume is different for everyone, but I think we should also try using different scents, not only one perfume [that we are used to]. [When we are used to] Chanel, [we use] Chanel. [When we are used to] Dior, [we use] Dior. We can also try the new perfume that our fellow Cambodian has made," she further added.
Outside the IFC's gallery, Japanese artist, Lei Saito, was engaged in a culinary performance, creating a giant food-based installation and culinary landscape on a white table for onlookers to observe. Saito has been based in Paris since the early 2000s and was personally invited to Cambodia by the French Institute's Director, Valentin Rodriguez, to take part in this event and cultural season. She said it was her first time visiting Cambodia and was inspired by the new culture. She spent several days researching Cambodian cuisine, doing taste-tests and preparing local ingredients for her installation. Saito took about an hour to complete the full installation, and at the end, attendees were able to eat the artwork directly off the table.
When asked what she hopes people will take away from her performance and art, she said, "If they can start discussing like, 'oh, it reminds me of the food I ate somewhere before,' or saying 'what is this?' or if it can invite some new imagination for people it will be really nice for me. And [while] I make food landscapes, it can be another landscape when it is related to each person's memories, they can imagine another thing, another new landscape. That will be nice."
Event attendees were enthusiastic and excited to smell and try out all the perfumes, and also seemed eager to attend more events organized by the IFC in the future, particularly those part of this cultural season's program.
One attendee, Ratana, said she had heard about the event from friends and had also attended a previous lecture hosted by the French Institute on the history and process of making perfumes.
"On the first day of the event, we actually went to the lecture on how the perfume was made, how it was made back then, a long time ago, and, it was really interesting," said Ratana. "And I think it takes a lot of knowledge, and you actually need to understand about a lot of different factors in order to actually design a perfume that is so well fitted and smells good and everything."
Another attendee, photographer Vannak Khun, said he heard about the event through Facebook and came to get inspired by the exhibition and other artists' work. He said, "I'm a big fan of the IFC, because they always have new things that I love to see. Also, it's good for me as an artist, that I can learn from different artists from different countries, and [from their] different work."
The event was capped off with an energized hip-hop concert by KlapYaHandz artists, Srey Leak and Vin Vitou, and excited attendees could be seen dancing the night away.
The 'Fashion and Perfumes' exhibition can still be experienced by all members of the public at the French Institute of Cambodia in Phnom Penh from 2 June until 22 October. A limited number of the special perfume, "In the arboretum," commemorating 30 years of the French Institute in Cambodia is also being sold while stock lasts.
The IFC also launched its second major exhibition of the cultural season, titled 'Glass blowers!' at the National Museum of Cambodia on 10 June, presenting unique glass pieces designed and produced in the Cirva workshop-laboratory in France, and showcased alongside a selection of Angkorian vases from the National Museum's own collection. The 'Glass blowers!' exhibition will remain at the National Museum until 30 September, so don't miss out on this exclusive chance to see the crossover of modern and traditional, French and Khmer art pieces.
The Wind of Asia, or Vent d'Asie, is the French Institute of Cambodia's third cultural season of its annual program. This season will feature a series of events on fashion, design and gastronomy. These events can be experienced from 2 June until the 22 October at the French Institute, the National Museum of Cambodia and elsewhere.
---
Related News