News Making International Headlines: 24 March 2022
Posted Mar 24, 2022 10:37 by Rosahlee Bautista

2050
Tornadoes, Storms Rip Through U.S. South
INTERNATIONAL: The threat of tornadoes and strong thunderstorms have loomed over the deep South in the United States on Tuesday, a day after the same system has produced twisters that destroyed homes and injured at least several people.
Torn-down homes and piles of debris have stretched across North and Central Texas on Tuesday, as powerful tornadoes tore through the region.
Several people across the state have been reported injured, according to the National Weather Service.
They added that a dangerous weather warning remains in place for around 5 million people in surrounding states.
In the city of Round Rock, about 20 miles away from Austin, a tornado hit Terry Grondin's home of more than 30 years.
"We tried to get through, streets were blocked… I didn't care, I ran over here and I saw my house and I was devastated, absolutely devastated. I didn't know what to do. I still don't know what to do, to tell the truth. I'm just trying to see how we get things done so we can get back to normal life, whatever we can do."
At least one person has been reported dead after a large tornado wreaked havoc in New Orleans on Tuesday.
And the rest of the region is expected to see heavy rains and wind gusts up to 45 miles per hour.
Some 55,000 people in Texas, Louisiana and Mississippi remain without power as of Tuesday afternoon.
Russia Marks Pro-War Z On Rocket Launched Into The Space
Russia has launched the Meridian-M n20L satellite onboard a Soyuz 2.1a rocket from the Plesetsk Cosmodrome in Mirny, Arkhangelsk Oblast, Russia on Tuesday March 22. The pro-war symbol "Z" is seen marked below the Russian flag on top of the rocket. "The pride of Russia, the Soyuz-2.1a launch vehicle with a symbol of support for our guys Z went to the stars," the Russian ministry of defense writes a statement.
While the Meridian-M network does provide support for the Russian military, it is not known if the timing of this launch is related to the current war in Ukraine. The deployment of the Meridian-M constellation has been underway since 2019, and the overall Meridian network since 2006.
Arab Assailant Kills Four Before Being Shot By A Passer-By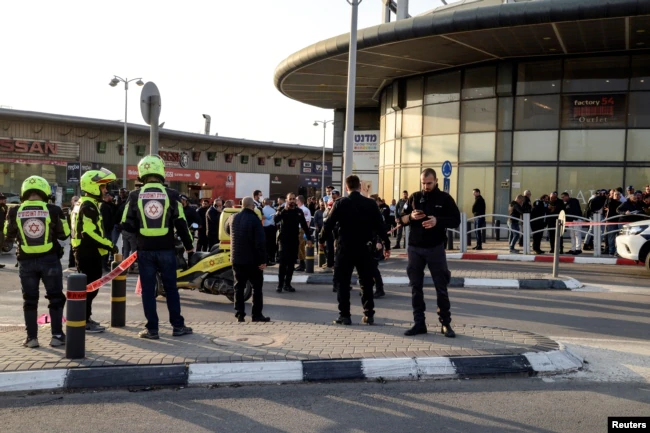 A witness to an attack that killed at least four people in the southern Israeli city of Beersheba on Tuesday mMarch 22m has said he saw many casualties.
An Arab assailant has carried out the attack, the deadliest in years, before he was shot by a passer-by, police has said.
There was no immediate claim of responsibility. Israeli media reports identified the attacker as an Arab citizen of Israel, a former high school teacher who had been imprisoned over alleged links to the Islamic State.
In a video statement, Israeli defence minister Benny Gantz has said that "The IDF and the security forces will take and will use all means to prevent terrorist incidents as much as possible, anyone who encourages or supports the latest attacks will pay the price."
The Magen David Adom ambulance service has said three women and a man were killed by the assailant, who has carried out the attack at a petrol station and at an outdoor shopping centre, and that at least two other people were wounded, one in critical condition.
Israeli protesters have gathered at the scene, chanting "death to Arabs."
Tensions have been on the rise in Israel and the Palestinian territories as the Muslim holy month of Ramadan, in April this year, approaches a period when violence has erupted in the past.
Several Palestinian stabbing attacks have occurred in East Jerusalem and the occupied West Bank in recent weeks, with some of the suspected assailants shot dead by Israeli forces.
---
Related News